Special Feature: Women in Credit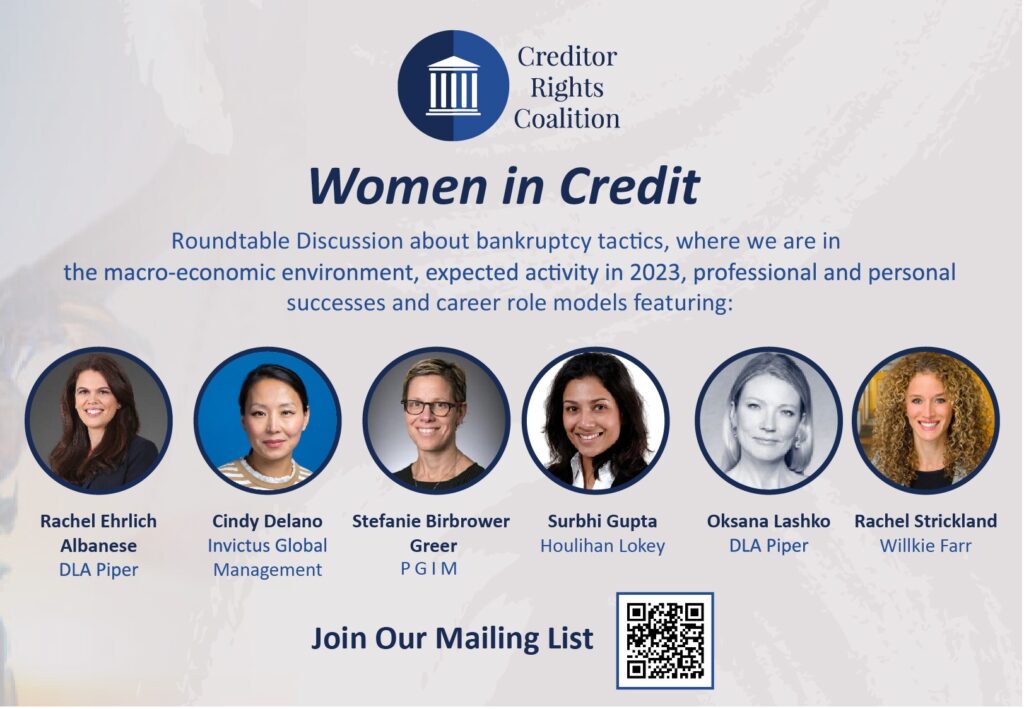 The Creditor Rights Coalition is proud to present our inaugural feature of Women in Credit.
These "All-Star" experts debate bankruptcy tactics, where we are in the credit cycle, expected areas of activity in 2023, and career highlights.
The Coalition is a non-profit association created with the intent of engaging in the twin pillars of thought-leadership and advocacy. We provide curated content to our audience through the Creditor Corner: the ultimate weekly source for great financial and restructuring news. The Creditor Corner gives you access to breaking news and unique content through our proprietary relationships with content and media platforms. We also sponsor original content through events and symposia, our expert contributors and various features. You can see our latest features by visiting our website or signing up to receive our content here. We are thrilled to make this our inaugural feature of Women in Credit.
Answers have been edited for brevity and clarity
On sharp-elbowed tactics:
Stefanie Birbrower Greer, PGIM, Inc.
I think what we generally see as tactics like creditor on creditor violence in the public side are probably going to leak into the private side world as well. We are going to see a lot more of that.
Rachel Strickland, Willkie Farr
People want to get involved earlier and earlier to understand the risks of creditor on creditor violence and proposed proactive transactions that help the company before an aggressor comes in and does it in a way that's more onerous and hurts their position.
Oksana Lashko, DLA Piper
Rachel Albanese, as you always say, "You'd better get there early." And then to quote someone else, "If you're not at the table, you are on the menu." So I think it's important to impress on people that there are more opportunities the earlier you get involved.
Where will we see activity in 2023?
Cindy Chen Delano, Invictus Global Management
You've seen leverage ratios creep up tremendously. And, against the backdrop of inflationary pressure and supply shocks, we're also seeing the impact associated with interest rates rising particularly with smaller players and folks that can't cut costs fast enough to achieve the cost structure that makes sense given where the debt structures are and where the debt servicing needs are.
Stefanie Birbrower Greer, PGIM, Inc.
We see a lot of that in the middle market.
Surbhi Gupta, Houlihan Lokey
I agree. Smaller companies on the margin are going to be hurt with rising inflation and interest rates. They just have less liquidity to buffer against all these different factors.
Cindy Chen Delano, Invictus Global Management
So unfortunately in those situations without the runway, without the liquidity, and without a sponsor deal and a real pathway, you're looking at value destructive liquidations.
Surbhi Gupta, Houlihan Lokey
I think this time around, every sector is being hit in some way, shape or form. So telecom, for instance, which has historically benefited from very lofty evaluations, now, you look at where they are in the cycle, and they will go through another round of restructurings.
On careers and role models:
Cindy Chen Delano, Invictus Global Management
I recommend doing something that's quite unfamiliar. For me, that was going to the investing side. Hanging up my own shingle and starting my own fund has been one of the scariest but also most satisfying aspects of my career. If you have a perspective that's somewhat different and you're willing to do the hard work and do something unknown and really dig in and not just do it the same way every single time, then there are ways to create what we call alpha. If you're doing everything that everyone else is doing and what is ordinary, you're not going to deliver extraordinary results. So we have to be comfortable with being different.
Rachel Strickland, Willkie Farr
The clients that I see that are the most successful investors are not following the herd.
Surbhi Gupta, Houlihan Lokey
I think on the practitioner side, at least what I've learned over the years is that there are a lot of people in our world, just given the personalities, that will talk past each other, talk over each other. I think some of the ones that have done really well are the ones that are good observers, and they listen.
That's something that I've tried to internalize because it's easy, especially with the pace of what we do, to get wrapped up in a situation.
Rachel Strickland, Willkie Farr
For me, one of my role models is Agnes Tang, who's a banker at Ducera. She is someone who, without ego, without fanfare, really manages to be the smartest person in the room. She doesn't speak to hear the sound of her own voice. She adds meaningful contributions and gets successes just on the strength of her intellect, her hard work, her ability to work with people.
Stefanie Birbrower Greer, PGIM, Inc.
I will say the person that had the most influence on how I practice law was Barry Seidel. Barry taught me how to be a commercial lawyer, how to think about the business, how to really think about what the clients want.
On advice for professionals:
Cindy Chen Delano, Invictus Global Management
When I have folks working on deals with me, I love it when they take a step back and say, "Well, what are your objectives," rather than, "Well, we've got to file this paper. We've got to do this." I would say the criticism would simply be, you just come in, and you say, " I'm not going to give you a viewpoint. Here's the law. Let me recite a bunch of what the standards are," which is not helpful.
Stefanie Birbrower Greer, PGIM, Inc.
I think the best practice for counsel [in an ad hoc group situation] is to take that extra time to get to know who's in the group and what the special issues are for them. I like nothing better than when someone starts a pitch with… "Before we get started, is there anything that you want us to address in particular?" I love that.
On dealing with bullies:
Stefanie Birbrower Greer, PGIM, Inc.
We had a big deal, a lot of people in a room and this one partner kept talking over this woman. So afterwards, I said, "Off my deal. No. Thank you. You need to let her speak." And I think it is part of our responsibility as the client to promote women and to look out for things like that. I think it's all of our responsibility as a community as well.
And so, it is very important to me to have women on my deals. It is very important to me to have diversity on my deals. It is very important to me to have people treated with respect. And if I don't see that, then, I have no hesitation in letting somebody go on the spot and taking them off my deal. And if it makes them look bad, great. Maybe they'll learn something for the next one.
Cindy Chen Delano, Invictus Global Management
It's always about merit. And mathematically, if women can survive this alpha environment, I'm always going to over-select for survivorship bias. Mathematically, they're going to be more substantive. And that's how I see it. When I think about it, why wouldn't I over-select over performance? Isn't that what I'm supposed to do, drive performance for my investors? That's alpha for you.
For the full Roundtable Discussion, please click, please click here.